Sheet Metal Processing from a Single Source
Sheet metal is a pre­cise, light and strong mate­ri­al – if it is pro­ces­sed pro­per­ly! Weather wel­ding, fol­ding, cut­ting or gal­va­ni­zing, Our long-standing and expe­ri­en­ced staff in the pro­duc­tion of parts ensu­res supe­rior manu­fac­tu­ring qua­li­ty and help you to save costs for sub­se­quent pro­ces­sing.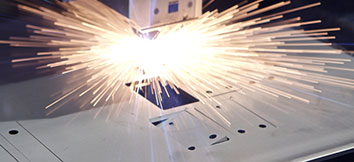 Thom parts pro­duc­tion works relia­bly with your pro­duc­tion or takes it com­ple­te­ly away from you.
Punctual, pre­cise, effi­ci­ent.

What You Can Expect from Thom Sheet Metal Processing:
Production with the hig­hest degree of punc­tua­li­ty at a fair pri­ces
Folding ins­tead of wel­ding: One-piece struc­tures, intel­li­gent­ly fol­ded ins­tead of wel­ded toge­ther, for hig­her sta­bi­li­ty and effi­ci­ent pro­duc­tion
Laser cut­ting made to mea­su­re – with short pro­ces­sing times.

Max. sheet metal thick­ness:
​

Structural steel = 20 mm
​

Stainless steel = 15 mm
​

Alu­mi­num = 10 mm
Max. sheet size:
​

3,000 mm x 1,500 mm to = 15 mm
​

2,500 mm x 1,250 mm at = 20 mm
Parts pro­duc­tion accord­ing to drawing – even for com­plex assem­blies
Surface Treatment

Structural steel: pri­ming, pain­ting, brow­ning, pow­der coa­ting, nickel coa­ting, chro­m­ing
Stainless steel: blas­ting, brus­hing, grin­ding, polis­hing
Alu­mi­num: anodi­zing
Quality pro­duc­tion inclu­ding sin­gle order deli­very: Your parts are mar­ked and com­mis­sio­ned. You recei­ve exact­ly mar­ked sup­ply parts, which are clear­ly mar­ked for your assem­bly.