Thom, the company
Traditional streng­th for the future
Since the foun­ding of the Thom Metalworks com­pany in 1968 the com­pany his­to­ry has a suc­cess sto­ry. Constant grow­th, expan­si­on of core com­pe­ten­ces and ente­ring into new mar­kets have mar­ked the suc­cess of the com­pany.
What star­ted in Kirchlinteln with metal­work jobs con­ti­nued over the fol­lo­wing years in the quick­ly gro­wing mecha­ni­cal engi­nee­ring sec­tor. The take­over of Schmiedbauer Metalworks in Verden in 2002 led to Thom, under the lea­dership of Thorsten Thom, beco­m­ing a com­ple­te pro­vi­der of mecha­tro­nic sys­tems with con­trol tech­no­lo­gy. In addi­ti­on to having an inno­va­ti­ve ran­ge of pro­ducts Thom also offers fac­to­ry main­ten­an­ce ser­vice to their cust­o­m­ers.
System engi­nee­ring opened up new mar­kets. As a manu­fac­turer of spe­cial machi­nes and con­vey­or sys­tems for the food indus­try, Thom Metall– und Maschi-nen¬bau GmbH has beco­me suc­cess­ful world­wi­de, and con­ti­nues on the path of suc­cess.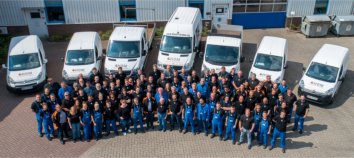 For over 40 years – and in the future – the­re are three gui­ding prin­ci­ples on which the suc­cess of Thom has been, and will con­ti­nue to be based:
No com­pro­mi­ses on qua­li­ty. A good price-performance ratio is and always will be supe­rior to the ​

"

at chea­pest rate" mode. This is the only way of per­man­ent­ly ensu­ring a high qua­li­ty level; on ser­vices, as well as in pro­duc­tion.
A good ​

"

rap­port" with cust­o­m­ers, part­ners and employees: Mutual trust among equals is an inte­gral part of our cor­po­ra­te cul­tu­re.
The con­vic­tion that tra­di­ti­on is a dri­ver for the future. One result of this con­vic­tion is the first-class apprenti­ce­ship pro­gram at Thom.